Saturday, August 27, 2011 at 10:30PM
The Magic: the Gathering world is flipping out over the new double-sided card mechanic.
I admire that they are trying to do something new and splashy, but this just seems so full of problems. You can't shuffle a deck that has a card with no back, so you'll have to either use opaque sleeves and actually take the card out of the sleeve during gameplay when you need to flip it, or you'll have to use the "checklist" card in place of the real card when it's in a hidden zone like your hand or deck. The checklist card looks like a joke to me, I thought it was maybe April Fools when someone linked it.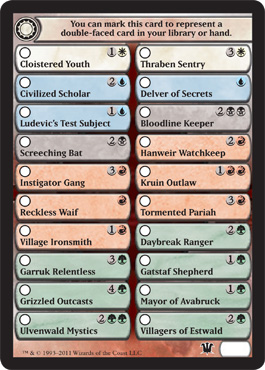 It's also pretty problematic in draft if you open a pack and decide to take a double sided card. Everyone can see that, and also everyone now has reason to scrutinize you as you look through your possible draft picks, just to look for this.
There's a lot of confusing interactions too. Imagine your double-sided guy interacting with this, this, or this. And in case you're wondering how double-sided cards work when things copy them, here's a quick explanation for you:
If a double-faced card becomes a copy of something else, the copied values will overwrite its characteristics for as long as the copy effect lasts, even if the double-faced card transforms. If a double-faced card that's copying something else is instructed to transform, it will do so, because the physical card has two faces, but its characteristics will still be those of whatever it's copying. This is true even if the object it's copying is one face of a double-faced card.
I almost wonder if these cards will end up banned, all of them, for some sort of logistics reason. I think a LOT of what MTG has been doing in the last couple years is really great, so this stands out as pretty wonky. It looks like the community of MTG players--people completely used to their game constantly changing--are even saying that this is just too much.
The theme and flavor of the new set looks great, at least.
Sirlin
|
tagged
MTG
in
Game Opinions
Permalink
Email Article
Print Article